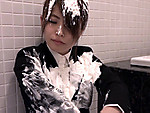 Eriko is a college girl who dreams of becoming a nursery school teacher, doing job-hunting hard to realize its her hope! But she feels terrible stress for herself, thinking of going in a psychosomatic medicine.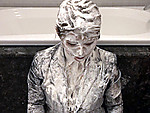 One day she found the existence of the psychosomatic medicine clinic which seems to be interesting. It was a clinic that does treatments getting covered with cream. The clinic recommends that being covered with cream reduces stress and regains health condition of mind and body.

As Eriko is interested in that treatments and reserves immediately! She is to be taken a 'creamy treatment' on the way from tomorrow's job-interview.


■Covered with cream at a clinic (DM16-2)
video clip・・・24min.(2600 YEN) order page