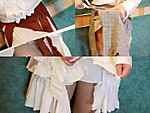 A Japanese girl brings her private skirts that she will never wear again, cuts with scissors and tears apart them. The 3 skirt are below, an elegant knee-length flare skirt, a white skirt with unique three-tiered frills, a beautifully designed mid-length skirt with a front slit. I carefully captured this scene with a single video camera. Occasional conversations(Japanese) between me and the model are also included.

In the past I had the opportunity to shoot 'RIP scene' with this model on several occasions. I believe this video surely resonate with RIP fans and leave a lasting impression on your hearts.

(1st 9min. 2nd 9min, 3rd 12min. Total length of the video is 30 min.)

※You can check this sample movie on some sales sites below or my sample movie gallery on homepage.
https://www.xcream.net/category/all/244

■3 consecutive Ripping private skirt 1
video clip・・・30min.(2400 YEN)
order page(XCREAM) 
order page(FANTIA)
As for 'FANTIA' site, only Japanese pages are expressed now, please translate Japanese into your mother tongue by translation function.