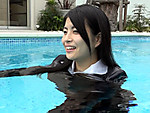 I started to release new work 'Swimming fully-clothed for the final job interview exam(WETLOOK series)' that I made last summer in an outdoor pool. For specific information, please refer to the following!


A college girl doing job-hunting for a construction company of outdoor pool takes part in the final job interview exam. She is now wearing charcoal gray recruitment suit with 3 buttons and white blouse of the open collar.


This time she does not arrange or style her hair, being long straight hair, though almost all of the college girls doing job-hunting do up their hair. So she is neat and trim appearance!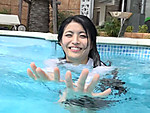 The final job interview exam is swimming fully-clothed. Of course she gets into the pool with her recruitment suit on! Her interviewer directs her to swim in the pool. At first she hesitates to enter the pool. But once she enters the pool,she has nothing to be afraid of! After she walks around the pool or playing a ball to get used to the water, swimming in various styles of swimming; breaststroke, backstroke, butterfly, crawl(freestyle) and so on.

She is convinced of a pass the final job interview exam. Then she takes her jacket off and swims again! It makes doubly sure to pass the final job interview exam! She does a beating in the poolside, showing us her sexy leg and thigh. She gets out of the pool several times, then the her figure of the low angle is unmissable, too!



■Swimming fully-clothed for the final job interview exam (DW22-2)
video clip・・・27 min.(2500 YEN) order page