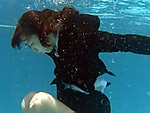 This work is underwater version of "Private lesson for job-hunting 2 (DW19-2)" that I released on the 22th of October,2017. The underwater scene occupies 93% of main parts.
A cute college girl wearingnew dark gray recruitment suit with 3 buttons goes to school for job-huntting for the second lecture.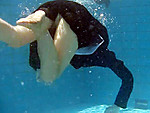 This time she does treasure hunting game in the pool! She gets into a pool and seeks for treasure under water! Please enjoy the world of underwater!

■Underwater version : Private lesson for job-hunting 2 (DW19-2)
video clip・・・8 min.(1000 YEN) order page