After an interview again
Today I started to release new work 'After an interview again (WETLOOK series)'. For specific information, please refer to the following!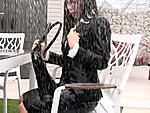 Eriko is getting wet to the skin with her recruitment suit again! She goes to the suburban pool where she went with her best friend the other day.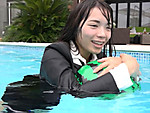 She goes to the pool for the return of the interview as she did the other day. At the poolside, she is wearing suit with bag, being soused with water by friend in a jesting manner.She said to a friend 'Dripping wet!', but she is smiling for some reason. In fact, she enjoyed that time...coming there to get wet wet to the skin and swim with her suit on again!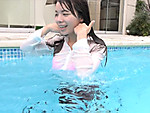 After being sousing with water, she gets into the pool and plays with a beach ball or diving to pick her pumps up. She takes her jacket off, swimming the breaststroke and crawl stroke as fast as she can.

At the end she gets out of pool and puts her jacket on, moving to a shower room. She takes a shower, soon she takes her jacket off again, taking a shower to her heart's content.


■After an interview again (DW25-2)
video clip・・・30 min.(2400 YEN) order page