In Thailand of perpetual summer(pool version)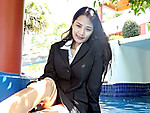 I started to release new work 'In Thailand of perpetual summer [pool version] (WETLOOK series)'.This is first video clip of the series.


It is first taking video of overseas for me! This time I made longtime wish happen in reality. In Thailand of perpetual summer, an amateur woman we got in Thailand enjoys WET WORLD in an outdoor pool of a resort hotel.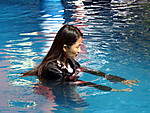 This pool is very rare one, surrounding an eating place. Speaking of the depth to the bottom of this pool, there were the shallow place and the deep place. Moreover there was a spot where water runs down from the roof. Anyway there were many interesting spots in the pool.

In this scene, she is wearing charcoal-gray wool suit that I prepared for this shooting. As it was very hot, I made her get into the pool soon! At first, she walks the poolside slowly to get used to water. Then she soaks in water to her shoulders, my staff dashes water over her, so she got wet to the skin!


After that she takes her jacket off, playing with water in the pool. Her underwear shows through and you can see her breasts, it is very sexy! In the end, we move to the spot where water runs down from the roof, she takes water from her head! Enjoy WET WORLD in an Asian resort.

■In Thailand of perpetual summer[pool version] (DW20-1)
video clip・・・31 min.(2600 YEN)➡ order page