Exercise of Mud Run with recruitment suit
Today I released new muddy work. For specific information, please refer to the following!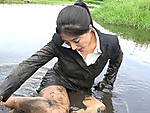 A woman makes up her mind to take part in Mud Run race in the near future. She got permission to use a fallow rice field that the company she belongs owns.

"What!" She is now wearing new recruitment suit that is typical suit for young college girls doing job-hunting in Japan. She is going to join the Mud Run race with her suit on, wearing suit this training, too. She has been obsessed by getting muddy while wearing a suit, getting into the fallow rice field without hesitation with her new dark gray recruitment suit on!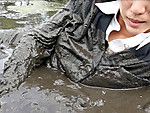 She gradually was covered with mud, lying down on her belly,rolling around, taking off her jacket in the end. Enjoy the situation that she is getting muddy for training of Mud Run race!

■Exercise of Mud Run with recruitment suit (DM12-2)
video clip・・・14 min.(1800 YEN) order page