The continuation of 'After the part-time job'
This scene is the continuation of 'After the part-time job', that starts after taking a bath.


A college girl isn't satisfied with only taking a bath, moreover, carrying out some emotions surged strongly from the depth of the heart.

She is seized with the feeling that wants to cut her suit which she wore at the part-time job. She cuts the suit with scissors, in order of skirt, jacket, blouse. Of course it is first experience to do that for her. But she likes this, feels refreshed strangely, too. She has not done such a thing, therefore she can get mysterious refreshment.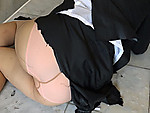 After having cut her suit, she enjoys bathing again, though this time with ripped suit! The pieces of cloth of the skirt or jacket float on the surface of the hot water. When she soaks in a bathtub and her body warms, she goes out of the bathtub and she lies on the floor of bathroom. Her thigh and hios appearing from ripped skirt are sexy.


■The continuation of 'After the part-time job' (DA13-1)
video clip・・・20min.(2400 YEN) order page