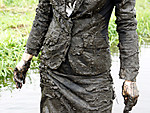 After a long time, I made and released new muddy video clip! For specific information, please refer to the following.


A college girl doing job-hunting is now wearing new black recruitment suit.(typical suit for young college girls doing job-hunting in Japan) She gets lost on her way home. A rural scenery opens around her and there is a fallow rice field before her eyes!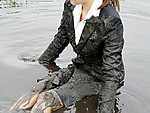 She makes up her mind to get into the fallow rice field and to cross the field with boldness to go to the destination in a hurry! Of course, she doesn't mind that her suit will be dirty with muddy water.It becomes the beginning of tragedy! She falls down in the fallow rice field and gets wet and messy with mud. In the end she is covered with mud, taking off her jacket and daubs her blouse with mud!

■Happening on the way home from job-huntting (DM13-1)
video clip・・・30 min.(2800 YEN) order page