Memory of undergraduate days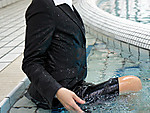 Today I started to release new work 'Memory of undergraduate days (WETLOOK series)'. For specific information, please refer to the following!

This work is based on a story that an experienced high school teacher remembered her undergraduate days! She is to give instructions of swimming with clothes for young college girls who are to become school teacher in the near future.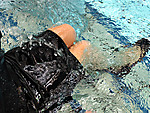 She is now poolside and is wearing black suit that she wore in activities for job-hunting on her undergraduate days! First of all, she stretches before getting into the pool. When she is stretching water of a shower suddenly pour out of nowhere as if it rained! Her suit gets wet to the skin step by step.

At the beginning, she sits in a shallows of the pool to get used to cold water, next she gets into the pool and dives many times! She enjoys sense in the pool with clothes to her heart content! After that she exercises to float her body with a kickboard under her body. The contrast of her suit soaked wet and surface of the water are wonderful.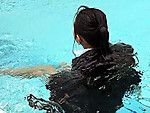 In the end, she swims the breast stroke a little and gets out of the pool. Then water drips from hems of skirt, jacket and so on. Please enjoy reproduction of her memory of undergraduate days!

■Memory of undergraduate days (DW21-2)
video clip・・・24 min.(2400 YEN)➡ order page