In Thailand of perpetual summer(beach version)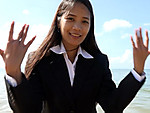 I started to release new work 'In Thailand of perpetual summer [beach version] (WETLOOK series)'.This is second video clip of the series.


We moved to a beach where we could hardly see a person, away from famous beach. I had a model wear a black suit with 2 button that I had brought from Japan.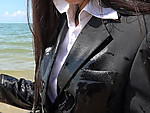 On the beach, at the beginning she hesitated to get wet with suit, but I said 'Let's go', she finally splashed water to herself. Once she got wet, she lay on her belly on the shore without caring about getting wet!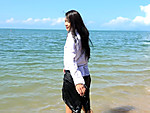 In the end, she takes her jacket off, splashing water to herself or getting into the water.

You can watch her movements or looks, the state of being attractive, beautiful.


■In Thailand of perpetual summer[beach version] (DW20-2)
video clip・・・15 min.(1800 YEN)➡ order page