Private lesson for job-hunting 3
Today I started to release new work 'Private lesson for job-hunting 3 (WETLOOK series)'.This is last video clip of the series.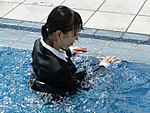 On last day of the lesson, a college girl goes to school for job-huntting ! She is wearing her black recruitment suit at the poolside. At first she and I play game with dice. She casts two dice and these show the same number, she gets into the pool with her suit on, otherwise I splash water at her. In any case she is to get wet to the skin.....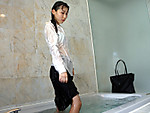 After the game, we move to a bathroom, she takes a bath with her suit and bag on, taking a shower, washing her head and hair using shampoo. At last she takes her jacket off and takes a bath again! You can see her brassiere through her thin white blouse!

■Private lesson for job-hunting 3(DW19-3)
video clip・・・19 min.(2200 YEN)➡ order page