Muddy on the way home from job-hunting for business firm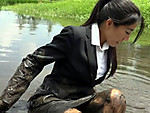 Today I release muddy work after a 3 year absence! For specific information, please refer to the following.

A woman works as clerkdom against her will in a certain company for three years. In fact on her school days, she really wanted to get job for business firm, belonging to division of agronomy and horticultural science.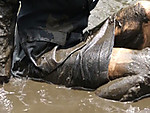 She makes up her mind to look for a new job for business firm, because she can't give up her dream for agriculture. One day she passes paper screening of a business firm, going to a job-interview with suit. But on her way home from that, she encounters an unexpected event. In the end, her suit gets all muddy in a fallow rice field!

■Muddy on the way home from job-hunting for business firm (DM11-1)
video clip・・・22 min.(2600 YEN) order page