Newface female employee wet&messy&rip
Newface female employee wet&messy&rip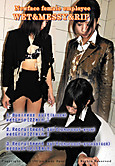 Today I release new work, 'Newface female employee wet&messy&rip'. This new work are consisted of 3 scenes. You can purchase video clip and collection of photographs at XCREAM. I have explained details of the work below or previous 4 articles in the past.

I have shown mainly WET or MESSY works in this blog, but I have made many RIP works ever before, too. Today I will open this new work containing RIP scenes.

As I open sample movie on my channel of YouTube, But I will leave out RIP scene. I will open full version's sample movie containig RIP scene on downroad store( XCREAM ).
If you want to watch full version's sample movie, click a banner below.


【WET&RIP suit for commuting】(22min.)


I glanced at the black suit she was wearing. That suit has a very thin stripe, some wrinkles in her tight skirt. Moreover the thread of the slit has become frayed. So I understood that this suit had been considerably dressed for a commuters' hell and working hard. In this scene, she performs the special fetish stress-relieving method for female office worker! As soon as she got home, she made a beeline for the bathroom. As she was all tuckered out, she took a shower without taking off her suit! The suit gets wet in shower, the wet point does not show patterns of the thin stripe. Then she gets fully soaked in a bathtub. She is relaxed and splashes hot water by herself. After getting out of the bathtub, she rip her suit( tight skirt and jacket)and blouse one after another with scissors, making a plurality of cuts, tearing up skirt or blouse by hands. A sound to tear up cloth resounds in the bathroom! Finally she rips her suit and a blouse into pieces with boldness! So you can see her underwear from the ragged skirt or blouse!.

【WET&RIP suit for job-hunting】(21min.)


She wears new charcoal gray recruitment suit with 3 buttons. In this scene, she performs the special fetish stress-relieving method for Japanese college girls doing job-hunting! She was stressed-out by job hunting, getting wet to the skin and ripping the suit. After that she refreshed herself! At first when she enters bathroom, sitting down on a bath chair, taking a shower. She gets both the skirt and the jacket wet little by little. You can watch the state that her suit gets wet slowly and carefully. After having taken a shower, she enters the bathtub, standing up when she sweats. And she sits down in the edge of the bathtub, scooping hot water with a pail, hanging hot water to her body many times. When WET scene has gone, RIP scene finally begins! Firstly she cut the skirt with soaking in a bathtub, cutting the jacket and the blouse next. The state that the cloth ripped skirt and jacket floats on the surface of the hot water flutteringly is surreal. This gap that the new suit which I purchased for photography has reduced to rags is good.

【MUDDY&RIP dream and reality】(18min.)


This is last scene of new work. This scene is consisted of two parts. In the first part, she wears new charcoal gray recruitment suit with 4 buttons, wearing black recruitment suit with 3 buttons in the second part. This scene is under the following short story. First part is dream and seconad part is reality.
[ story ]
One day in the evening, Eriko was tired from everyday job-hunting and writting a university student's graduation thesis. So she had a lot of stress, having a dream. In her dream, she bought new charcoal gray recruitment suit with 4 buttons. It is common to wear black recruitment suit with 2 or 3 buttons for young college girls doing job-hunting in Japan. However she repels such a custom and purchased that suit. She was cross-examined by an interviewer of the company she had wished to work for, 'Why you purchased a suit with 4 buttons?' 'Do you want to appeal originality by the suit?'......The dream transcends time and space. In the next instant, she was in the bathtub of bathroom. The interviewer dashed mud and water on to her new suit. She was ordered to rip her suit with scissors now. As she wants to get an informal decision for a job, She cut tight skirt and jacket in an upward direction as she had been asked to do. As soon as she thought'How should I go home in such a state....?' she suddenly awoke from a dream.
When she get up, she opened the door of the closet and took out a black recruitment suit with 3 buttons. And she began to change into the suit as if she went for job-hunting. She went to bathroom with expectation. Of course it isn't 'A Dream of Dreams'. She had an intention to get dirty with mud or rip her suit! At first she covered skirt and jacket with mud, ripping her muddy suit with scissors! This was the state that Eriko expected from a beginning. After she cleaned bathroom and had taken a shower, she came back to her room. There was an envelope on a desk and she put it in a drawer. It was an informal decision for a job from the company which was the first choice!