For the coming Songkran
Today I started to release new work 'For the coming Songkran (WETLOOK series)'. For specific information, please refer to the following!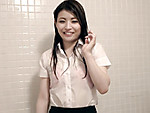 A college girl gets an unofficial offer from the company that she mostly wanted to join. As next spring she is to graduate from her college, she decides to do a short-term language study abroad in Thiland for commemoration of her graduation.

The university where she goes is preppy school for ladies. She purchase a regulation uniform for school at once by internet. In Thiland, students are obliged to wear uniform. Women students should wear white blouse and black or navy-blue skirt.(tight or pleated skirt) Length of skirt and the design vary by school or a school year. In her school, freshers are to wear a long tight skirt as it seems to touch the ground. Because length is surprisingly very long, just by looking, there is not an exposure part at all. But it has very long slit in back!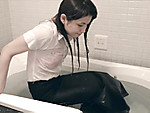 In Thiland she will take part in Songkran that is traditional New Year celebrated in several Southeast Asian countries. In Thailand Songkran is held every year in April. Anyone can participate in that event. and splashes water on each other. So she plays water and takes a bath and so on in a bathroom in order to get used to get wet through!

■For the coming Songkran(DW23-3)
video clip・・・16 min.(1800 YEN) order page