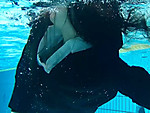 This work is underwater version of "For training of swimming with clothes on (DW21-1)" that I released on the 31th of May,2018. The under water scene occupies 91% of main parts.
She is wearing a black with 3 buttons, walking around the pool at first on this scene. You can watch under water scene that she swims the breast stroke and the crawl, stretches various poses at a shallows of the pool.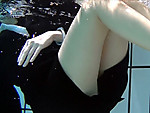 In the end she takes a bath beside the pool, floating her body in the large bathtub. Please enjoy the world of under water!

■Underwater version : For training of swimming with clothes on (DW21-1UW)
video clip・・・20 min.(2000 YEN) order page