Japan is the country which consists of many islands, surrounded by Ocean.
The Japan Islands are mostly(about 60%) composed of steep mountainous regions and have a lot of rainfall, naturally there are many of both river and lake.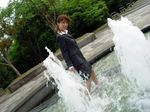 Reflecting those geographical features, Japanese river and lake have rapid currents and abundant amounts of water!
In addition, forests in the mountainous regions preserve water well: because this turns into underground water, there is a lot of spring water and clean water flows into river and lake.
Thus Japanese people have familiarity in water from ancient times.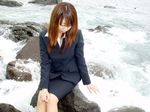 In Japan, when summer comes, many Japanese go to the beach, the riverside, the lakeside and so on. Just being there with family or friends, it is enough for us to soothe stress or fatigue.
Sometimes we can see school girls or young women going into sea, river, fountain, or pool with having their clothes on.
I love this kind of situation, that is to say, wetlook outside!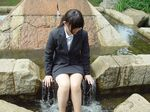 So I established new-style wetlook webside 5 years ago, and released some works before. That website's name is "Water-playing and healing(playing with water, in short)"which is sister site of "Office Lady Special".
"Water-playing and healing" series include new-style "wet" movies that not only feature soaked girls with their clothes on but give "healing" to viewers.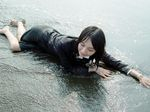 On that website(water-playing and healing), I publishes elaborated movie products featuring young girls playing in the water with having a variety of costumes on, though they are mainly suits.
You feel happy with behaviors, smiles, and whispers of "water-playing" girls, and feel healed with the sound of waves, winds, or fountains and BGM.


■water-playing and healing website 
http://omizuasobi.net/    (Japanese only)

■Gallery
http://omizuasobi.net/gallery.html

photo set
http://gcolle.net/advanced_search_result.php/keywords/%A4%AA%BF%E5%CD%B7%A4%D3%A1%F5%CC%FE%A4%B7/search_in_description/1/encode_hint/%A4%A2/categories_id/254/language/en