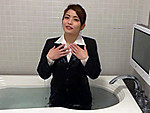 Today I started to release new work 'Being tired from job hunting (WETLOOK series)'. For specific information, please refer to the following!


A college girl starts to do job-hunting for the apparel industry, but she is very busy with classes or the circle activity of the university, too. One day, when she comes home, thinking of taking a bath with her recruitment suit that she wore in an interview until a while ago! Although girls doing job hunting ordinarily wear black or charcoal gray recruitment suit, she is wearing light gray suit now, that is a rare thing!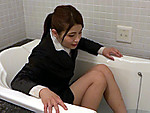 At first, she goes to bathroom with her suit and pumps on, adjusting the temperature of the shower. She takes a shower from a lower part of the body step by step. As her suit are made from wool, it sucks water in a moment, changing from light gray to black, and the parts that are reflected in the light of the room are shining! Unlike black suit or charcoal gray suit, a wet points are outstanding clearly!

After taking a shower for some time, she enters bathtub, filling it with hot water! Then her body gradually soaks in the bathtub! And she splashes water to herself, taking a shower in the bathtub, and so on. While she does what she can't usually do, her feeling cleared and her stress is relieved!

■Tired from job hunting (DW23-1)
video clip・・・19 min.(2200 YEN) order page