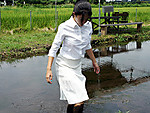 Today I released new muddy work 'Playing with mud in a fallow rice field (DM11-2)' which is continuance of the previous muddy work 'Muddy on the way home from job-hunting for business firm (DM11-1)'!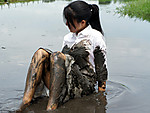 A woman succeeded in job-changing! Today she takes part in event for prospective employees. In that event they play with mud each other in a fallow rice field! So they are received instruction beforehand to bring their spare clothes which might become dirty with mud. But she brings outfit for office; white blouse and white pleated skirt!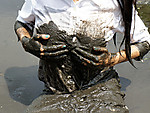 In the end, she makes up her mind to participate in the event with her outfit. At first she does stretch, going to a fallow rice field, of course she hesitates to get muddy, gradually accepting this situation. In a few minutes she fell down on the stomach in a fallow rice field! After that she fearlessly plays with mud and her outfit was covered with mud!

■Playing with mud in a fallow rice field (DM11-2)
video clip・・・17 min.(2200 YEN) order page